Welcome to the Cottonwood Extension District #17
COVID-19 Continuity of Operations
---
I want to bring you up to date on how we are meeting the needs of our families in Barton and Ellis counties during this time of uncertainty. While our offices doors are locked we want to assure you that we will continue to bring research based information to you. While our face-to-face contact is limited through July 4th, I encourage you to reach out to any of our staff through phone calls or e-mails.
It has been nearly three years since our Extension District formed a partnership between Barton and Ellis Counties. Our staff of seven agents and two office professionals offer programming in the areas of Agriculture, Family and Consumer Sciences, 4-H and Youth Development and Community Vitality. Let us know how we can help you!
Donna Krug, District Director
---

Virtual wheat demonstration plot tour - Cottonwood Dist.

Monday, June 1st at 9:30 a.m. Cottonwood Extension will be having a virtual wheat demonstration plot tour for wheat growers, and the supporting ag industries.

To join us during this event or at a later date the link is below and the password is
WheatCWD
https://www.youtube.com/watch?v=55lmt9T1XvE&t=299s
Everyday Mindfulness
or Life and the Practice of Mindfulness, Part II
FCS Agent Update (Feb 2017)
Spring 2020 Cottonwood District Newsletter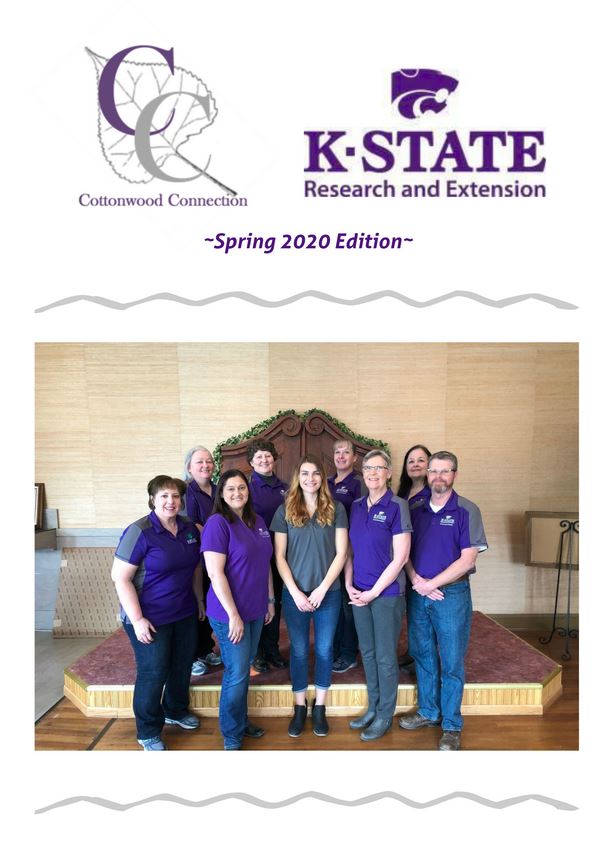 Timely Topics

Chinch Bug Information and Control
Sorghum Insect Management Guide
Resilient Relationships--Thriving and Surviving
2019 Barton Co. Dryland Grain Sorghum Hybrid Plot
Plant analysis for testing nutrient levels in soybeans
Post-harvest weed control in wheat stubble
Flood and Natural Disaster resources from K-State Research and Extension
Effect of standing water and saturated soils on corn growth
Recent Rains Prompt Mold Questions
Suggested Maximum Rates of Fertilizer--Wheat and Corn and Grain Sorghum
2019 Kansas County-Level Cash Rents for Non-Irrigated Cropland