Welcome to the Cottonwood Extension District #17
The Cottonwood Extension District is made up of Barton and Ellis Counties and formed July 1, 2017. K-State Research and Extension programs present useful information related, but not limited to: Agriculture; Family and Consumer Sciences; Economics; 4-H Youth Development; Home and Family life; Business and Economics; and Health and Nutrition. We take programs to Schools, Gardens, Community Centers, and many other places.
Our philosophy is to help people help themselves by taking university knowledge to where people live, work, play, develop, and lead. We work at being responsive to the needs of the people by focusing our resources on providing quality information, education and problem-solving programs for real concerns.
---
March 16, 2020
We are a dedicated team with a strong creative skillset, and we will continue to help you solve problems, make sound decisions, and improve quality of life.
Please reach out to our team during regular business hours by phone or email BEFORE visiting an office site. Our office phone numbers are:
•Great Bend (620) 793-1910
•Hays (785) 628-9430
Through a genuine conversation about your needs, we can identify the best way to assist you with research-based education and services while also taking into consideration health, wellness and safety needs. Strategies to help accomplish this include but are not limited to phone, email, social media, and video conferencing.
Please visit the Cottonwood District website at www.cottonwood.ksu.edu for local and district event updates and a complete listing of our contact information.
We are committed to serving the communities, businesses and families in Ellis and Barton County. We take seriously our obligation to extend the mission of K-State Research and Extension to each of you.
Thanks,
Donna Krug
Cottonwood District Director
dkrug@ksu.edu
---

(Click on above image for more information)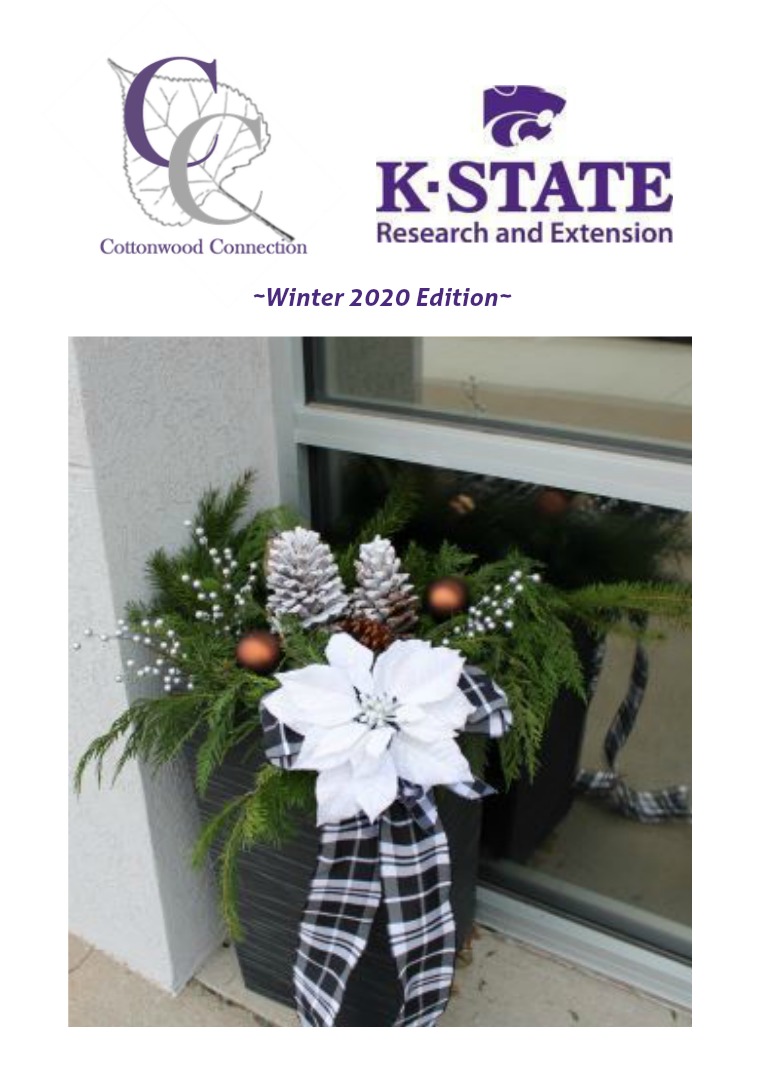 Cottonwood District Winter Newsletter (Check out the new format)
Timely Topics

2019 Barton Co. Dryland Grain Sorghum Hybrid Plot
Plant analysis for testing nutrient levels in soybeans
Post-harvest weed control in wheat stubble
Flood and Natural Disaster resources from K-State Research and Extension
Effect of standing water and saturated soils on corn growth
Recent Rains Prompt Mold Questions
Suggested Maximum Rates of Fertilizer--Wheat and Corn and Grain Sorghum
2019 Kansas County-Level Cash Rents for Non-Irrigated Cropland